It's important to us to keep you informed about changes in medical physics regulations -- and it's also our pleasure to keep you informed as part of our commitment to customer service.
Read our blog often for the latest updates and expert medical physics advice from our skilled team.
Why Do I Need To Have My Machines Inspected By A Physicist?
Posted on Tuesday, August 6th, 2013, under Radiation Safety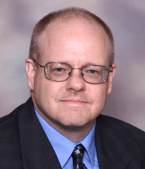 Stephen Hale, Jr., Ph.D.
On occasion when we are visiting with a potential client, we're asked what benefit a physics inspection of the equipment provides.  One thought commonly expressed is that since preventive maintenance (PM) is done on a regular basis, there should be no reason to have another testing procedure in place.  Another concern on everyone's mind is the cost, both monetarily and in terms of having a system out of commission for a time during the testing.
For owners of registered x-ray equipment in Missouri, a new program being implemented by the Department of Health and Senior Services (DHSS) effective January 1, 2014, will require that all x-ray machines are inspected by a Qualified Expert (QE) on a regular basis.  All 4 inspectors at Integrated Science Support (ISS) have achieved QE status under the new state program.  The frequency of this inspection depends on the types of equipment present at the facility.  All registered facilities should have received a letter from DHSS by now explaining the new inspection system and informing them of their survey due date.  The QE will perform the machine inspections and then report their findings to the state for each facility before the due date.  Testing results from the previous 12 months can be submitted, so as to avoid rescheduling any previous arrangements between the facilities and the medical physicists.
In Kansas and Iowa, state regulations require annual inspections of x-ray equipment.  The results of these surveys must be available for inspection by the state.
In addition to regulatory reasons for having your machines inspected on a regular basis, there are patient care aspects that are directly impacted by the performance of the x-ray equipment.  Tests that are performed by ISS's inspectors can find a variety of problems that aren't immediately apparent to the end user and that can contribute to patient harm.
One test that is performed regularly on all fluoroscopic equipment is the alignment of beam limitation collimators with the image receptor.  The typical requirement is that the x-ray field itself must fall within 3% of the source-to-image distance (SID) of the image receptor.  Automatic collimation of the system should occur when magnification modes are changed, but it is not uncommon for our testing to reveal that when a mag mode is selected, the collimation does not decrease the size of the x-ray field.  On at least one occasion, a mobile C-arm fluoroscopic device was found to be within the 3% limit on the normal mode, but when all magnification modes were chosen, the collimators failed to decrease the radiation field.  Any patient being examined with this device would have excess tissue exposed to radiation without any visible image being created for diagnostic purposes.  A quick note to the biomedical support services at the facility resulted in the problem being fixed.
Integrated Science Support works to provide qualified expert services in Missouri, Kansas, and Iowa.  Contact us today to find out how we can help you maintain regulatory compliance as well as achieve excellent patient care in the diagnostic field.
Protective Apron Inspection
Posted on Tuesday, June 11th, 2013, under Radiation Safety

By Greg Sackett, M.S., CHP
The inspection of radiation protective aprons is a mysterious requirement without much guidance.  Many hospitals and clinics have heard something about inspecting aprons, but many have questions as to what they need to do.
The primary requirement for protective apron inspection is given by the Joint Commission.  Some States also require inspection of protective aprons but Missouri, Kansas and Iowa do not have any such requirements.  This means that technically only those institutions accredited by the Joint Commission are required to inspect their protective aprons annually.
The Joint Commission requirement may be satisfied by physical inspection OR fluoroscopic examination of protective aprons annually.  While fluoroscopic examination is believed to be more thorough, it may not be necessary for newer aprons and may deliver unnecessary exposure to the persons testing the aprons.  Fluoroscopic testing may be considered for aprons considered suspect following physical examination.  If fluoroscopic testing is performed, low technique factors and not automatic exposure control should be used to reduce operator exposure.
The keys to a successful apron inspection program are as follows:
Uniquely identify each item of protective equipment with a number and some method of determining when it was last inspected.  This may be done on the label/tag itself or with a database that tracks all of the items and when they were inspected.  If a database is used, results must be available for inspection by the Joint Commission.
Develop a procedure for inspecting the protective equipment, either physically or fluoroscopically (or both).
Develop criteria for determining when protective equipment is defective.  Such criteria may include:

Tears, perforations, or seam separation.
Holes larger than 15 mm2 unless it is not positioned over a critical organ.
Velcro that is no longer functioning.

Aprons determined to be defective should be removed from service immediately and disposed of properly (as hazardous material/waste if they contain actual lead).
Establishment of a protective apron inspection program may not be required at your facility but should be considered in order to give assurance to staff that the protective equipment they have available is not defective.
References:
"Inspection of lead aprons: Criteria for rejection," Operational Radiation Safety Volume 80, May 2001
"Implementation of an X-ray Radiation Protective Equipment – Inspection Program" published in Operational Radiation Safety Vol 82, Feb. 2002, pp 551-553
Communicating Radiation Risk to Patients
Posted on Thursday, April 18th, 2013, under Radiation Safety

By Greg Sackett, M.S., CHP
Responding to patient concerns and questions about radiation risk can be one of the most challenging duties facing technologists and physicians. Patients often arrive with preconceived notions of risk based on misinformation they have seen in the media or read on the internet. They may be scared or even hostile towards the caregiver attempting to complete a prescribed procedure.
When discussing risk, perception equals reality, regardless of scientific or technical evidence to the contrary. Therefore it is necessary to discuss risk within the patient's perception of the hazard. The keys to remember when discussing risk with the patient are:
Tell the truth.
Use positive or neutral terms and no jargon.
Use examples to help the patient understand.
Don't speculate, discuss only the procedure being performed.
Do not attack the patient's beliefs or a source of misinformation.
 Ask if you are being understood.
Ensure the patient that the procedure will be performed using good radiation safety practices that are designed to keep the doses as low as possible while still generating the diagnostic results required. Be careful generalizing risks, as future cancer risk is highly age dependent. Many radiation induced cancers have latency periods of 10 to 20 years. While individuals over 60 have minimal cancer risks from radiation exposure, children have a lifetime risk of 10-15% simply due to the length of time available for cancer to appear.
One aspect often overlooked when discussing radiation risks is the BENEFIT to the patient of the procedure being performed. The risks of NOT performing an exam include missing a diagnosis and/or initiating treatment too late to improve the medical outcome. This risk must be considered in conjunction with the latency period for radiation-induced cancer and the age of the patient. The use of radiation in healthcare saves thousands of actual lives every year, while the entirely theoretical risks predicted by risk models are orders of magnitude smaller. Ensure that the patient understands why the procedure is being performed and the benefit to their immediate health.
If the patient has questions that you cannot answer, they may be referred to the Radiologist or Radiation Safety Officer of your institution. You may also refer them to trusted websites like RadiologyInfo.org that are designed to answer patient questions about Radiology and Radiation Safety.
References:
How to Understand and Communicate Radiation Risk, Peck and Samei, Imagewisely.org
Benefits of Medical Radiation Exposures, Zanzonico and Stabin, HPS.org